Croatia's spectacular Adriatic coast of a 'thousand islands' has some of  the most breathtaking scenery in the whole of the Mediterranean.
To sail  in steady breezes through the cluster of small islands that make up the beautiful Kornati National Park is an experience not to be missed.
Sample the fine cuisine and warm hospitality of the local people while exploring the  larger, more populated places like Split, Starigrad and Primosten. 
Gallery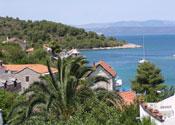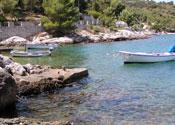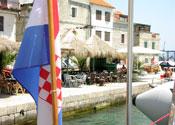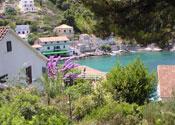 Croatia enjoys a gentle, warm and relatively dry climate throughout the summer months with prevailing north-westerly 'Maestrale' winds of force 2-3, occasionally increasing offshore and later in the day.
Flotila Sailing
The gentle prevailing northerly winds during the summer months provide some  great sailing. The flotilla makes good use of the sheltered coastal harbours and  the many safe anchorages amongst the off lying islands, many only 4 km from  the mainland coast.  Cruising distances are generally short, so days are set at a leisurely pace. Most  itineraries provide a pleasant combination of mooring on town quays, in bays  with quiet anchorages, and in sophisticated marinas. 
---
Cruising distances are generally short, so days are set at a leisurely pace. Croatia offers so much to see and to explore; most people say that one visit to the Dalmatian coast is never enough. You should consider the Croatian coast as three separate cruising areas, visiting each one on a separate holiday to take in all of Croatia's breathtaking sceneries.
Route Information
The Kornati Route
19 May
02, 16, 30 June
14, 28 July
11, 25 August
08, 22 September
06 October
The Southern Route
12, 26 May
09, 23 June
07, 21  July
04, 18  August
01, 15, 29 September
13 October
A great Two country flotilla suitable for the more experienced crew, that takes in the very best of the southern Adriatic coast. On alternative weeks the flotilla sails a circular cruise north of  the spectacular walled city of Dubrovnik in Croatia and then a second week is spent cruising amongst the harbours and coves of Montenegro's beautiful Bay of Kotor.
Route Information
Korcula Route (Sailing North from Dubrovnik)
19 May
02,16, 30 June
14, 28 July
11, 25 August
08, 22 September
Montenegro Route (Sailing South from Dubrovnik)
12, 26 May
09, 23 June
07, 21July
04,18 August
01,15,29 September
This flotilla takes in the more central Dalmatian islands of Brac, Solta and Hvar and when combined with a second week the flotilla explores the off lying islands that make up the Kornati National Park. Again cruising distances are generally short, so days are set at a leisurely pace and there is always so much to see ashore with shops, cafe's and bohemian style restaurants lining cobbled streets. Visit freshwater lakes, forgotten palaces, fortified harbours, museum's and lively waterfront taverna's. 
Route Information
The Northern Route
19 May
02,16, 30 June
 4, 28 July
11, 25  August
08September
The Southern Route
27 May
10, 24 June
08, 22 July
05,19  August
02, 16 September
Bareboat Charter
Working closely with our overseas yacht partners we are delighted  to offer a very comprehensive selection of yachts for independent  bareboat charter in Croatia. Yacht bases have been chosen to offer the  widest possible cruising options, from Pula in the northern Adriatic to  Dubrovnik in the south.
Select a yacht that suits your requirements,  investigate your travel options or have Sunscape tailor a package to include UK departing flights the yacht charter and local transfers.  
---
Learn to Sail
| COURSE | Departure Date | Live aboard a school Yacht | Instructor for Own Yacht Tuition |
| --- | --- | --- | --- |
| RYA Courses: ICC, Competent Crew, Day Skipper, Coastal Skipper | 01 Apr -25 May | £595 | £995* |
|   | 26 May - 29 Sep | £695 | £995* |
|   | 30 Sep - 03Oct | £595 | £995* |
RYA training is provided by Seafarer Training Zaton.
Prices are Per person or Per Yacht* for the instructor
Days   6  (7 Nights on board)  for Shared accommodation on the Tuition Yacht
Extras: Instructor's food,. Private tuition charges apply to when clients charter a suitably equipped tuition yacht exclusively for their party and we provide an instructor on board for the duration of the course.
Port taxes and mooring fees: £50 per person per week on Tuition yachts. Mooring fees and tourist tax payable by clients directly on private tuition.
A 50% supplement applies for single cabin occupancy on the training boat.
---
Sail & Stay
Compliment your sailing holiday in Croatia with a week ashore. Select one of our, exclusively for you, chosen  hotels, villas or apartments.
Or use our search facility by clicking on the link below
---