Visiting this beautiful country steeped in history and legend, blessed with a famed natural beauty and enjoying a charming culture is a unique experience best enjoyed from the deck of your own charter yacht.
Whilst sailing in Greece you can experience the crystal clear waters and mythical shores; feast your eyes on dramatic scenery of turquoise seas set against a pine clad mountain backdrop.
Explore ashore ancient temples, Byzantine churches and picture postcard white and blue villages. Enjoy balmy evenings mingling with locals and visitors along elegant and bustling promenades. Observe a spectacular sunset from the quayside of a sleepy, timeless fishing harbour.
Gallery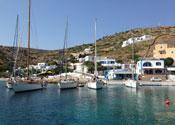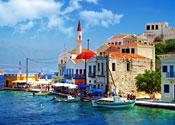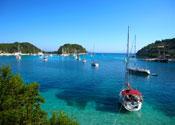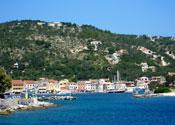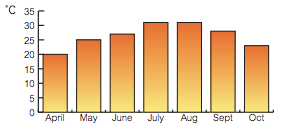 Daily sunshine is virtually guaranteed. The Ionian is similar to the Adriatic, enjoying predominately northerly winds of force 2-3 during the summer months. In the Sporades winds are mostly north-easterly, while the winds in the southern Aegean prevail from the north-west. During July and August the seasonal Meltemi raises the strength from 2-3 to 4-7, particularly in more open sea areas. The winds often curve and increase in speed between larger islands and the mainland, making for some interesting sailing.
Flotila Sailing
Our one and two week cruises provide a fantastic opportunity to discover the unspoilt natural beauty of the Greek isles. Sailing from the beautiful port of Poros, the Peloponnese flotilla explores the coastline of the Saronic and Argolic gulfs on the eastern side of the Peloponnese. Our second flotilla cruise, The Sporades Flotilla is set amongst the beautiful Sporades islands, laying off the eastern coast of mainland Greece and sailing east and west  from the small town of Loutraki of Skopolos island.  Other flotilla options include the  Ionian Flotilla or Kefalonia Flotilla provide visitors with a truly rich cultural experience, setting sail either from Sivota on Lefkas island or Kefalonia. And finally located at the edge of the South Eastern Aegean are Dodecanese Islands where the one and two week Dodecanese Flotilla sails north and southfrom Kos Island.
---
Bareboat Charter
Bareboat Charter in Greece offers the widest choice of cruising destinations for independent sailing in any one country. From Poros explore the Saronic Gulf and Eastern Peloponnese coast, from Corfu the northern Ionian or from Lefkas the ever-so-popular southern Ionian islands. From Rhodes harbour sail the Dodecanese island chain or alternatively, charter a yacht from Skiathos and explore the Sporades with their spectacular white sandy beaches and hidden coves. 
---
2019 Prices from

Until 24 May

After 12 Oct

25 May-07 Jun

21 Sep-11 Oct

08 Jun-26 Jul

27 Jul-23 Aug

24 Aug-20 Sep

2 Cabin Yachts
 
 
 
 
 

Sun Odyssey 33i (2012)

£1040

£1245

£1395

£1440

£1230

3 Cabin Yachts
 
 
 
 
 

Sun Odyssey 42i (07-10)

£1845

£2209

£2455

£2945

£2455

Sun Odyssey 419 (16-18)

£2295

£2785

£3275

£3929

£3275

4 Cabin Yachts
 
 
 
 
 

Sun Odyssey 439 (2012)

£2395

£2865

£3185

£3819

£3185

Sun Odyssey 44i (09)-10)

£1975

£2400

£2819

£3385

£2819

Sun Odyssey 440 (17-19)

£2865

£3485

£4095

£4909

£4095

5 Cabin Yachts

£3500

£4255

£5000

£6000

£5000

Jeanneau 53 (10-12)

£2745

£3040

£3285

£3420

£2890

Catamarans
 
 
 
 
 

Lagoon 380 (2007, 4 Cabin)

£2650

£2945

£3190

£3325

£2795

Lagoon 400 (2012, 5 Cabin)

£3400

£4345

£4525

£4650

£3870

 
 
 
 
 
 
Extras: Comfort Pack: Includes; Starter Pack of basic provisions, Bed linen, End cleaning:

2 Cabin yacht: £70, 3 Cabin yachts £75, 4 Cabin yachts £85, 5 Cabin & Catamarans £100.
Ideal for Bareboat
Kos Yachts
Illustration
Ideal for Bareboat
Poros Yachts
Illustration
Learn to Sail
Our partners in Greece operate the Poros Yachting Academy, an RYA recognised training centre, located on Poros island with a range of courses suitable for all abilities, from complete beginners through to Coastal skipper and Yachtmaster.
Course
Departure Dates
Live aboard a School Yatch
Own Boat Tuition
RYA Courses: Competent Crew, Day Skipper, Coastal Skipper

01 Apr - 25 May 
26 May - 29 Sep

£609(6 days)
£649(6 days)

£1075 (6 days)
£1185 (6 days)

ICC available on request
 
Own Yacht tuition: Prices in £ per yacht+yacht charter cost (maximum 3 students; additional students 16 years and over - extra £55 per person).
Live aboard school yacht: Prices are per person, based on 2 sharing a cabin. All prices are exclusive of flights and transfers.
Extras: ICC certificate: £45, Competent Crew and Day Skipper certificate: £75
RYA G15 Log Book available from Sunscape at £10 including P&P.
---
Sail & Stay
Sunscape have a great selection of Private Villas with pools, Noutique Hotels, Beach Clubs with watersports and Apartments with self-catering facilities to choose from.
Or use our search facility by clicking on the link below
---