Bareboat Charter Holidays
At Sunscape we take pride in offering tailor made vacations to allow individuals a unique sailing holiday experience by chartering a yacht with skipper or sailing independently on bareboat charter.
Take a yacht only option or have Sunscape arrange the flights and airport transfers for you and your crew. 
Below you can find a selection of yachts for each sailing destination, hand-picked by Sunscape, or alternatively use 'quick search'  to choose from our extensive selection of yachts in each of our offered sailing destinations.
Gallery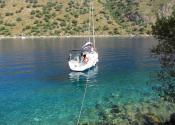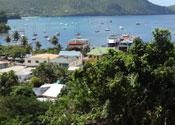 Turkey Bareboat Charters
In Turkey Sunscape have teamed up with partners Yildiz Yachting to manage a fleet of modern Beneteau and Jeanneau yachts. We are able to provide selected other Hanse and Bavaria yachts from our network of local yachting partners for bareboat charter. We know the country well and can advise you on all aspects of cruising Turkey's wonderful southern coast and tailor a holiday to suite your specific requirements. Take the yacht only option or have Sunscape provide your flights and transfers in Turkey for you and your sailing party.
---
Greece Bareboat Charters
Bareboat Charter in Greece offers the widest choice of cruising destinations for independent sailing in any one country. From Poros explore the Saronic Gulf and Eastern Peloponnese coast, from Corfu the northern Ionian or from Lefkas the ever-so-popular southern Ionian islands. From Rhodes harbour sail the Dodecanese island chain or alternatively, charter a yacht from Skiathos and explore the Sporades with their spectacular white sandy beaches and hidden coves.
---
Croatia Bareboat Charters
Working closely with our overseas yacht partners we are delighted  to offer a very comprehensive selection of yachts for independent  bareboat charter in Croatia. Yacht bases have been chosen to offer the  widest possible cruising options, from Pula in the northern Adriatic to  Dubrovnik in the south.
Select a yacht that suits your requirements,  investigate your travel options or have Sunscape tailor a package to include UK departing flights the yacht charter and local transfers.  
---
Sicily Bareboat Charters
Bareboat charter in Sicily with varied wind conditions around the island provide an ideal scenario for all levels of sailing  experience and our team would be happy to help you choose the right sailing area for  you. With its pleasant sunny climate, friendly locals and well run marinas Sicily is a must  visit destination. Yachts are available for charter from two bases:  Palermo, the island's capital and Portorosa on the North-east corner of the island.
---
Sardinia Bareboat Charters
Sardinia enjoys long warm summers with predictable winds and favourable sailing conditions suiting the intermediate to more experienced sailor. From the yacht base at Portisco on Sardinia's north eastern corner at the centre of the Emerald coast, sailing itineraries can easily include the numerous ports and marinas east and west of Portisco, as well as a number of beautiful natural anchorages set amongst the Maddalena National Park of small islands.
---
Mallorca Bareboat Charters
From the yacht base in Palma de Mallorca, one week charters can explore Mallorca's east coast towards Cala Ratjda, visiting the national park on the beautiful island of Cabrera, or alternatively sail west stopping at the picturesque Port of Soller and Puerto Pollensa. Two week cruises can sail northeast along the southern  coast of Menorca or out to the smaller islands of Ibiza and Formentera.
---
Caribbean Bareboat Charters
Explore the crystal clear waters and picture perfect islands around the beautiful Caribbean Sea. Together with our overseas partners we offer excellent quality yacht charters from our bases in Antigua, Grenada, Guadeloupe, Martinique, St Lucia,St Martin, St Vincent and Tortola.
---